Market Research Panel for Online Surveys
B2B, Healthcare and Consumer Audiences to Make Your Online Research Complete
Ask an Expert | Get Quote
Global Brand Tracking
B2B and Consumer
Custom Research
How and when are market research panels used?
Survey research projects today examine a broad spectrum of subject areas of varying complexities.  Data collection for commercial research, social, and academic study covers needs ranging from diverse B2B Audiences & Topics to such as
Study Healthcare Matters with Physicians, Healthcare workers, and the Patient voice as well.
Improve Products & Services with B2B Brand Tracking and Consumer Audiences by understanding awareness, attitude, and usage within a target market, industry sector, or region.
Strategize and Plan Public & Social Policy issues among constituents about events that affect them.
Even the simplest of market research studies require experience with sample planning and questionnaire screening design. In addition, market research panel companies must provide panels that offer recruitment balancing to a representative audience and using probability sampling techniques once the sample frame has been set.
A market research firm will leverage a Panel Management Software System to pre-recruit participants. Whether you're starting a market survey or planning to conduct an online focus group to connect with the target audience, it's crucial to organize and leverage your panel and an online survey to work together in the following way…
It is essential to re-screen for the online survey's qualifying responses as a best practice.
Updating participant profiles, particularly product usage and changing demographics, or matching customer personas (in the case of corporate or organizational panels), is essential to panel health and data quality.
It is equally essential to profile the panel membership for attributes to target their behaviors, preferences, ownership, other group identifiers, and demographics.
For each live survey, every respondent, whether pre-targeted or not, are taken through online survey screeners blindly for study qualification.
Who can benefit from solutions offered by panel research companies?
Independent research practitioners
Global brands, and Media companies
Advertising and Marketing agencies
Academic institutions and College Students
Global market research companies
Small and Mid-Sized Companies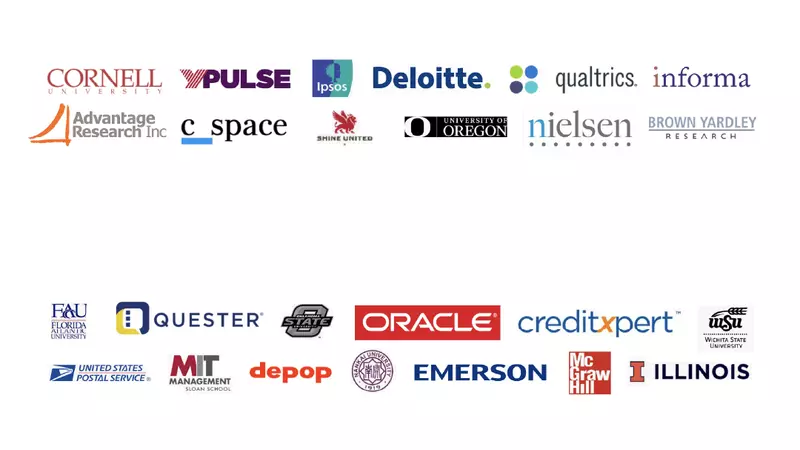 What are the benefits of using panel research companies?
Fast, Reliable Answers for Insightful Research as online survey panels offer you the insights professional, consultant, and other business decision-makers affordable, high-quality data from real people while offering the ability to achieve a representative sample of your target market. Particularly compared with other types of survey data collection methods like: phone surveys, mail surveys, or surveys using email lists.
Online Survey Panels have Higher Participation Rates among survey respondents and are generally the fastest and most efficient method to reach your target audience.
Significantly Improved Data Management for consumer research panels and highly curated online B2B research panels to provide enriched data options include:
Supports a Wide Range of Research Methodologies when using modern and innovative online panel companies that blend technology and experience to deliver the highest quality industry research data solutions you can conduct for following types of market research:
Precise Sample Population Targeting with an online market research panel reach of over 40 million global participants across North America, South America, Europe, Asia, and Africa. With all regions encompassing different audience types, all validated, profiled, checked for duplicate respondents, and verified as real individuals who are invited to join. 
Around the Nation | Around the World
ONLINE SAMPLING
Geographic access for B2B research and consumer research panel audiences:
United States
Canada
Mexico
Costa Rica
Panama
Nicaragua
Argentina
Brazil
Chile
Columbia
France
Germany
Italy
Spain
United Kingdom
Switzerland
Greece
Netherlands 
Denmark
Finmark
Norway
Sweden
Czech Republic
Hungary
Poland
Romania
Russia
Slovakia
Turkey
Ukraine
China
India
Indonesia
Japan
Malaysia
Philippines
Singapore
South Korea
Thailand
Vietnam
Ethiopia
Ghana
Kenya
Nigeria
South Africa
How to find business-to-business target audiences online
How are OvationMR B2B panel database solutions different for survey researchers looking to reach audiences for business-related surveys ?
B2B feasibility and expert project delivery come through a combination of highly curated global proprietary panel assets (decision makers, industry experts, trade professionals, and technicians)  together with focused customer service teams.
Experience better completion rates with every project you begin. You get the support of industry experts, including project management with the consultative experience, in-depth, and broad industry vertical knowledge intensely focused on B2B Research
Conduct any market survey and be confident when you are looking for online B2B niche audiences like:
Financial Decision Makers
Advertisers
Supply-Side Platform
Demand-Side Platform
Cross Industry
Cross Trade
Administrators
First Responder/EMTs
Nurses
PAs
Patients
Payers
Pharmacists
Physicians
HR Generalists
HR Manager
Talent Acquisition Specialist
Compensation & Benefits Specialist
CHRO
Developers
Technicians
Corporate Executives
Institution/Type
Primary School Teacher - Public
Primary School Teacher - Private
Secondary School Teacher - Public
Secondary School Teacher - Private
Administration - Public
Administration - Private
Professors - University
Administration - University
Architects
Builders
Carpenters
Electricians
HVAC
Landscape Professionals
Plumbers
Structural Engineers
Frequently Asked Questions
What is a market research panel?
An online survey panel offers convenient sampling for market research purposes such as online surveys and focus groups from a target population to determine the likely attitudes and behaviors of people which it represents. Panel members are identified in advance and sent a prequalified panel invitation via email, social media, or other online application. When the panel member prospect is validated as a full member, they may begin to participate in research projects on topics concerning products and services or social and community issues. Survey respondents are compensated with a range of reward choices from cash to gifts cards. These are modest rewards designed to not influence the research but reward the panel member for being a responsible member of the panel community.
Are consumer research panels different from B2B panels?
A panel research with consumers is primarily used for targeting respondents that meet the characteristics and specifications of research aimed at the non-business-related subject matter. Profiling information in a consumer panel is typically demographics, interests, and product usage. B2B or business-to-business panels instead focus on organizations and the titles (by industry sector) of business owners, licensed experts, and other trade professionals.
What are the advantages of an online market research panel?
An online survey panel offers researchers, consultants, and other business decision-makers affordable, high-quality data compared with other survey data collection techniques like telephone, face-2-face intercept, or mail surveys. In addition, online panel surveys are the fastest and most efficient method because of the precision targeting and the massive scale and speed of the internet. They offer a place where you can be certain of quality data compared with email lists and that you are not going to have to worry about duplicate respondents.
Who uses market research panels?
More organizations are discovering the benefits of leveraging online survey panel vendors for panel surveys, focus groups, and recruiting online communities. For university students, news organizations, global brands to research agencies large and small, there are thousands of use-cases to consider panel research to achieve your insights mission.
How many people need to answer my survey?
The answer to this question depends on what you are trying to do with the data, which means how accurate and precise the results need to be for the decision influenced by the data. For example, a simple poll of your Facebook friends asking them which outfit to wear to the reunion is probably good enough. However,  when forecasting 4th quarter sales based on the new ad campaign, you might use a more scientific random sample.

Need help with your project?
We are ready to offer you:
A project estimate/proposal
39 Broadway, Suite 2010, New York, NY 10006 USA