Online Focus Groups Success Guide
Qualitative research is highly effective when conducted online using a market research panel
Get Quote
Qualitative market research helps collect key non-numerical data for analysis. Learn the qualitative research benefits, methods, and more. Inside...
read more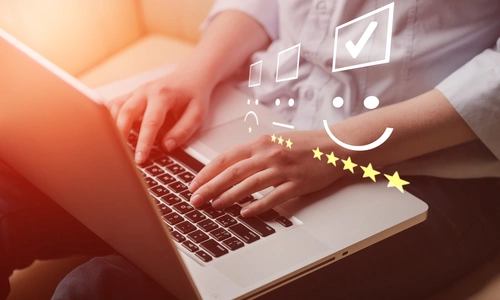 Bronislaw Malinowski, a prominent figure in cultural anthropology, first reported the appearance of group conversations among Trobriand Islanders that emulated our modern understanding of focus groups.
It was not until the early 1940s when a more formal appearance of focus groups emerged in research methodologies. Paul Lazarsfeld and Robert K. Merton were both conducting market research that studied the impact of propaganda during the Second World War.
Merton's methodology at first included gauging respondent attitudes to propaganda, where they showed negative connotation by hitting a red button and positive by hitting the green one.
Lacking granularity in their responses, Merton then set up group-based interviews in subsequent sessions to understand the reasoning behind their choices.
Both Lazarsfeld and Merton employed this technique for their respective research, with Merton later publishing a report discussing focused interviews in the 1980s.
While this report boosted the popularity of focused interviews in the market and social science research, the actual term "focus group" wasn't coined until 1991 when psychologist and marketer Ernest Dichter studied consumer behavior in the marketplace.
Focus groups have come a long way since, especially in the 21st century when the use of the internet is ubiquitous in various research fields.
 Let's begin with a basic understanding of focus groups and their application through online mediums…
Online Focus Groups in Market Research
Focus groups are a type of data collection technique that collects data through group interviews. They create a more natural setting for researchers to gain additional data and insights into people's opinions and ideas from the dialog they share with the moderator and other participants in the focus group.
Until the advent of the internet, most research material and seminal literature discussing focus groups were particular to in-person communication. In most studies, a group of up to 8 participants would be selected based on some commonality. They would then meet and express their opinions on a topic with the debate facilitated by a moderator.
When it comes to online focus groups, the fundamentals remain the same. However, there are some ways they differ from their traditional counterparts. Today, we're focusing on simply understanding online focus groups in the context of how they differ from conventional, in-person focus groups.
The definition of online focus groups is as simple as it gets, especially now that we've discussed the history and basics of focus groups as research tools.
As you would expect, online focus groups are conducted over the internet. They are now more widely used in market research, where researchers want to understand their audience's purchase intent, buying behavior, and collective opinion on their products or services.
One of the main reasons for their widely accepted use is that they are highly interactive and can be easily isolated from external factors that would otherwise be detrimental to the study, skewing the qualitative data and its results.
Types of Online Focus Groups
Online focus groups can be categorized into two main types: how they are administered and how they obtain data from respondents.
Synchronous Online Focus Groups
The name is self-explanatory. This technique collects data in real-time as the participants contribute to the discourse and share their opinions – hence we use the term synchronous in the name.
These online focus groups are administered through various online mediums such as video conferencing, chat messaging, Zoom meetings, etc. The group, along with a moderator and researchers, convene and connect online to share their opinions. The interaction typically involves 7-9 participants and can last between 30 to 90 minutes.
The moderator is responsible for curating the focus group, and leading the conversation, collecting qualitative data throughout.
These focus groups are most commonly used in market research that endeavors to test product or service concepts.
Asynchronous Online Focus Groups
Asynchronous online focus groups are also called bulletin board focus groups since they don't collect data in real-time. Unlike synchronous groups where participants interact simultaneously, asynchronous focus groups track longitudinal data through online participant communities.
This means that participants share data at different times by responding to emails, making video responses, taking surveys, answering questions, posting pictures, interacting with other participants on forum posts and other online media platforms.
Since online focus groups include interaction and discourse among participants and with the moderator, media channels allow text, audio, and video conversations.
Asynchronous online focus groups are often used in market research when brands require a selected audience input for product creation, design, or product innovation.
Considerations for Online Focus Groups
Various considerations come into play when setting an online focus group. The first aspect of research to think through is the topic and research objective of the study. This will be pivotal for the moderator to keep the group focused on relevant topics and prevent them from going on tangents that take up useful time.
This involves consideration for the questions the moderator will ask to prompt discussion. Generally, the questions should be engaging, compel people to contribute, and exploratory to elicit responses that provide more in-depth answers to probing inquiries. You will want to develop and plan your research using a qualitative discussion guide.
The participants of your online focus group also require careful consideration. Suggestions and recommendations for the strength of the group vary from one researcher to the next. In his book called The Handbook of Online and Social Media Research: Tools and Techniques for Market Researchers, Ray Poynter suggests 10 to 30 participants for asynchronous online focus groups and 3 to 8 participants for synchronous.
The heterogeneity and homogeneity of the focus group also impact the qualitative data collected. Researchers are not bound by geographic limitations or time zones, which is especially beneficial for studies that require data from heterogeneous groups. Participants from different locations, socioeconomic backgrounds, and demographic variables can be chosen and recruited using a market research panel.
This particular aspect of online focus groups has come to advantage researchers conducting research with audiences dispersed in other locations during the coronavirus pandemic. With travel restrictions and social distancing protocols mandated across the world, online focus groups simplified data collection.
To learn more about recruiting participants to your next Online Focus Group or In-Depth-Interview, Contact Us.
Advantages of Online Focus Groups
There are several benefits of conducting focus groups on online mediums, including:
Cost-effectiveness – with online focus groups, there are no travel expenses to reimburse. Researchers also save money on renting or booking a conference room, hotel rooms, food expenses, etc.
No geographic boundaries – you can recruit participants of various backgrounds regardless of where they are located around the world, except if their geographical location is a consideration for the study.
Ease of Analysis – recording online focus group data is easier than in-person discussions as the platform is also the recording mechanism for video and text data capture. If you are recording moderated video groups, you can easily transcribe & translate conversations, time-code, edit, index, and tag your content. This makes it simple to recall any part of a session or sessions by searchable elements using useful keywords like brands or other categories.

Need help with new insights?
We are ready to offer you:
A project estimate/proposal
39 Broadway, Suite 2010, New York, NY 10006 USA