Top 7 Market Research Trends to Watch in 2023
The things customers care about and the ways we reach them have changed so abruptly that we've had to adapt in order to stay ahead in delivering next-level insights
Ask an Expert | Get Quote
Learn why a foundational component of surveys is demographic questions, which enable you to understand the nature and characteristics of your respondents...
read more
Leveraging generative AI in qualitative research can have a number of benefits. Discover how artificial intelligence can help the world of market research....
read more
The global market research industry was valued at $71.9 billion in 2020 and has been forecasted to grow by billions more in the coming years. The importance of market research in businesses of all shapes and sizes is not going away—but the necessity of keeping up with market research trends is key.
Market research processes change and evolve from year to year, and the way we conduct our research in 2023 has been broadly altered since just the start of the COVID-19 pandemic. The things customers care about and the ways we reach them have changed so abruptly that we've had to adapt in order to stay ahead in delivering next-level insights.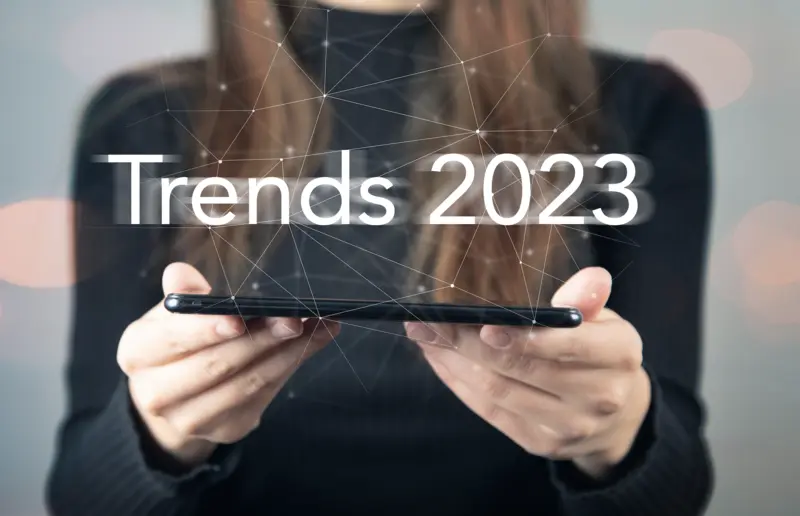 This is why it's essential to stay up-to-date on the latest trends, especially as a business owner or insights specialist. Knowing what to expect from your market research helps you make informed decisions for your own research purposes.
Read on to learn about the top seven market research trends to follow in 2023 to make the most out of your customer insights.
1. The Use of Mobile Devices
5 billion people use the internet today—and 92.1% of those people also access the internet from a mobile device. Incorporating mobile-friendliness into your market research quests isn't just a recommendation. It's a necessity.
There are a few ways to ensure your brand and its market research efforts are accessible to mobile users.
First, make sure your own website is mobile-responsive. While most of your market research may end up being anonymous, this is still an essential step to take. Not only does it allow you to reach wider audiences, but it's also a major component for SEO and building a strong marketing strategy.
Next, make sure that any surveys or market research you run are mobile-friendly. If you run any small-scale surveys in-house, be sure to use software that offers mobile surveys. Some software options are:
Typeform

SurveyMonkey

Formstack
For larger-scale research, always make sure your market research partner is able to create mobile-friendly surveys. This ensures you're able to appeal to even more respondents, making it easy for them to complete your survey no matter what platform you're on.
Keep in mind that mobile surveys will need to be structured slightly differently. It's much more difficult to type long answers on a mobile device, so your open-ended question response expectation may need to be shorter, or alternatively you could offer audio/video response options:
or converted to multiple choice where possible.
However, mobile has a number of other great benefits, including:
Faster data collection

Mobile ethnography

Geo-location data

SMS or app surveys

The ability to upload multimedia
Many market research companies are already seeing results from making a shift towards mobile-first surveys, with one boasting a 40% higher completion rate and another stating that mobile surveys help to better reach younger generations like Gen Z.
Throughout the next few years, we're going to see more of this shift in the use of mobile devices and the unique ways companies can gather insights from consumers via mobile. In fact, we'd venture to say that we're already seeing the majority of our survey respondents use mobile devices to complete their surveys.
2. Social Listening
Social listening involves monitoring and analyzing social media posts and conversations to gauge general sentiment surrounding a topic, industry, brand, etc. Using social media for customer insights has become a popular tactic as they provide a wealth of information about users' preferences, behaviors, and attitudes.
This is partially due to the fact that 80% of social media posts are spent with the poster talking about themselves and the things they like or dislike. By utilizing social listening tools, brands can gain valuable insights into what their target market has to say. 
Let's take a look at this example. Say a new brand is looking to launch a kids' clothing line. They may do some social market research around terms like "toddler clothes," "baby clothes," "kids clothes," and the like.
They might see a tweet like the following: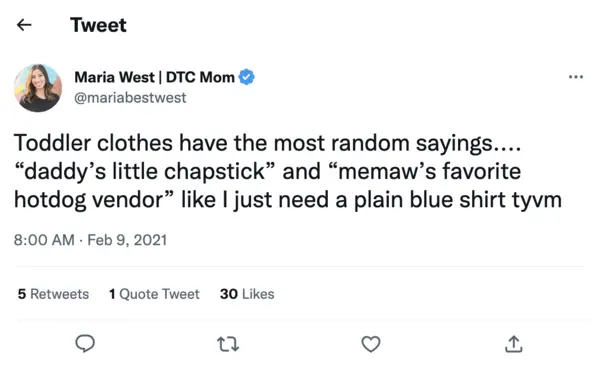 This tweet can help the new brand shape its product launch strategy, ensuring they carry clothing that's going to most interest its target audience.
Here's another example of how social media can be used for small-scale market research. If you or your brand has a large enough presence, asking questions and conducting polls on social media is a great way to get direct and real-time feedback:
Social media users are spending nearly 2.5 hours per day accessing their preferred platforms, so it's no surprise that this is becoming a major trend in market research. It's one of the most direct methods for sentiment analysis.
One thing to keep in mind, though, is that social listening data isn't always accurate. Due to factors like herd mentality, there are instances where you won't always gather every user's exact sentiments.
Use market research firms and partners for more in-depth and accurate data. But in the meantime, you can employ the following tactics for gathering other insights via social networks:
Browse

Google Trends

to see how often various topics are being discussed

Conduct searches on each social media platform with your brand name and industry to gauge sentiment

Monitor review platforms closely

Pay attention to major industry experts and influencers

Take advantage of social listening tools that can automate these processes

Build a list of qualified survey respondents based on their social media usage
There are nearly 5 billion social media users around the world, equating to 59.3% of the entire population, and that number is only growing. With that in mind, the need to include social media platforms and the insights they provide will also grow in the world of market research.
3. Artificial Intelligence
Artificial intelligence (AI) is an up-and-coming trend in a number of different industries, market research included. Although we're not quite to the level of AI we see in science fiction films, we're getting closer and closer every year, and AI-powered tools are opening doors never seen before.
The artificial intelligence market was estimated to be around $119.78 billion in 2022 and is expected to be more than 10x that by 2030 at $1,597.1 billion. 
As far as market research goes, AI is utilized in various ways, including data collection and analysis. By using AI-powered tools, businesses can process and analyze large amounts of data faster and more accurately, leading to more informed decision-making.
A few more ways that we're seeing artificial intelligence used include:
Automating tedious tasks that make projects more efficient

Gathering and interpreting insights from large subsets of data

Pulling customer insights from their activity online via natural language processing (NLP)

Substituting certain information gathering focus groups with AI-gathered knowledge

Discovering new insights and information at a much faster rate than traditional methods

Offering surveys via conversational chatbot rather than a static survey
While traditional market research methods like surveys and focus groups will always exist, the novelty, ease, and speed of artificial intelligence mean that market researchers and firms alike will be adopting it as part of their processes.
In a recent Forbes article, the founder and CEO of Commerce.AI, Andy Pandharikar, said that, "Artificial intelligence (AI) has brought about a new solution [in market research]: By using algorithms developed with data from sources like Amazon, Walmart, and Target, businesses can scan huge amounts of market research information in far less time than traditional methods. 
He also shared an example of how his own company used AI to "scan billions of data points and generate 10,000 market reports." This is game-changing: "While it would take an army of analysts months or years to scan the same amount of data, AI can do so in minutes."
Over the next several years, we're going to see AI evolve even more and gain the ability to take over even more projects and processes.
4. Video Content
We're seeing video content become increasingly popular as a means of communication in market research. A large part of this is due to the level of comfort people got with video communication during COVID-19 lockdowns.
Especially since lockdowns shut down in-person focus group facilities entirely, it hasn't been until mid-2022 or so that they've reopened just for qualitative surveys where physical components (i.e., product testing) are required.
Instead, video tools like Zoom, Google Meet, and other market research-specific tools have taken over. One report discovered that video content is being used in several ways much more often than it was before the pandemic:
93% more market researchers are using video for

online focus groups

87% more market researchers are having participants submit a video as part of their survey completion

87% more market researchers are conducting in-depth video interviews
By incorporating video into online surveys and focus groups, businesses can gain a deeper understanding of their consumers' attitudes and behaviors.
One company that's put video feedback into action is Del Taco. They worked with customer experience company Medallia's new video feedback feature to gather quantitative survey insights based on the 10 hours of customer feedback video they were able to collect from recent customers.
This was then aggregated into a 28-minute video filled with user-generated content from their own customers, helping to create hyper-effective marketing video content.
There are many different ways that video content can be used to help gather better insights. Mixing this trend and the last trend, there are even AI-powered tools that can analyze sentiment from videos and gauge exactly how those in the video feel about the brand or topics they're talking about.
5. Personalization
Consumers are starting to expect personalized experiences in a number of online transactions, like online shopping and customer service, and this trend extends to market research as well.
With the use of cookies, CMS data, AI, and other tools, brands and market research firms have the means to gather the personal data necessary to cater market research surveys and other marketing messaging to each specific person.
For example, some ways to personalize market research surveys include:
Putting surveys in front of the right type of respondent

Personalizing communication with each potential respondent by inputting personalized name fields

Explaining the specific reasons the respondent has been chosen to participate in the survey

Sending out the survey at the most convenient times for your respondents

Calling out the respondent's expertise in the subject matter

Making sure the topics and content are fully interesting and engaging to each specific respondent
By using personalized approaches and targeted sampling, businesses can gain more accurate and relevant insights into their target market.
6. Improved Data Quality & Data Validity
According to Qualtrics' 2022 State of Market Research report, 22% of organizations agree that data quality is a major challenge when it comes to market research. Being able to provide brands with quality data is a key part of market research, and the fact that nearly a quarter of organizations don't fully trust said data shows why improvement here is a trend.
Because survey-taking has become one of the big "make money fast" schemes over the last several years, many brands and market researchers have started seeing an increased frequency of fraudulent attempts to get past screening questions and use bots to take surveys.
This means market research firms are having to do more than your basic quality assurance to ensure that they're only providing the highest-quality data back to the end client.
A few tactics that you'll see used include:
Screening questions designed to only allow those who fully qualify and meet the requirements to access the surveys

AI-powered tools that detect bot entries and remove those data sets from the survey results

Using verified individuals on a market research panel as the survey respondents

Ensuring that said verified individuals are knowledgable and engaged in the topic and want to provide real, competent feedback

Creating an engaging experience that keeps verified individuals on the survey until the end

Manually verifying each and every survey entry (OvationMR is one of the only market research firms that does this to ensure that our clients are only receiving relevant and accurate responses)
With these strategies in place, market research agencies can ensure they're providing the best results possible. This is the only way to continue building trust with brands so they have confidence in their survey results.
7. Diversity & Inclusivity
To get the most accurate responses, it's essential to have a fully representative sample taking your survey. And because your target audience is likely extremely diverse, taking diversity and inclusion into account in your sample of respondents and in your survey demographics questions is key.
One way to ensure you're getting a more diverse sample is called quota sampling, and is a great way to ensure that you're gathering data from representative parts of your target audience. For example, a clothing designer can use this type of sampling to ensure they're gathering a representative sample of men and women or of Millennials and Gen Z to gather the best data possible.
You also need to pay attention to the language in your surveys. For example, if you're trying to survey a specific subset of the population, be sure to use language and colloquialisms that will best appeal to that demographic.
Furthermore, surveys also need to represent more inclusive language. The long-used "Male, Female, and Prefer Not to Say" answers for gender are no longer going to cut it. Instead, the new standard is to offer options like:
Male

Female

Non-Binary

Other

Prefer Not to Say
This ensures you're gathering the best representation of your survey sample possible. Additionally, you need to be more inclusive in the ethnicities listed so you're receiving accurate and inclusive responses.
Diversity and inclusion is a major trend all across the globe. Over the years, many corporations have been working to hire new DEI teams and department heads to ensure they're being as inclusive as possible. Keep this same enthusiasm in mind when building out surveys to ensure you're gathering insights from a diverse and well-represented sample of your target audience.
Keep Up With the Latest Market Research Trends
Start planning your data collection activities with these major market research trends in mind. Not only will this help you to make better business decisions based on key market insights, but it can also ensure you're reaching the best possible respondents and gathering the most accurate and relevant data.
To get started on your next market research project, contact us at OvationMR. We can help you find your target audience via our panel of individuals, personalized surveys, high-quality data, and more.
Jenn Whaley
Author
Jenn Whaley is Chief Commercial Officer at OvationMR, where she global heads up sales and marketing. She posts regularly on The Standard Ovation.
OvationMR is a global provider of first-party data for those seeking solutions that require information for informed business decisions.
OvationMR is a leader in delivering insights and reliable results across a variety of industry sectors around the globe consistently for market research professionals and management consultants.
Visit: https://www.ovationmr.com.

Need help with new insights?
We are ready to offer you:
A project estimate/proposal
39 Broadway, Suite 2010, New York, NY 10006 USA