20 Market Research Tools for Gathering Actionable Insights
Make informed decisions with well-researched data. Take advantage of these 20 market research tools to get actionable insights
Ask an Expert | Get Quote
Leveraging generative AI in qualitative research can have a number of benefits. Discover how artificial intelligence can help the world of market research....
read more
Incidence rate in market research is a powerful tool, shedding light on the feasibility, costs, and approaches of a project Inside this Article......
read more
Businesses need data in order to make informed decisions. And one of the best ways to gather said data is through the use of market research tools—panels, survey makers, research centers, and more.
To gather key data for your organization, you might choose to commission your own study, launch a customer feedback survey, or scour the internet for existing data and statistics relevant to your business. No matter which way you go, you need to find the right software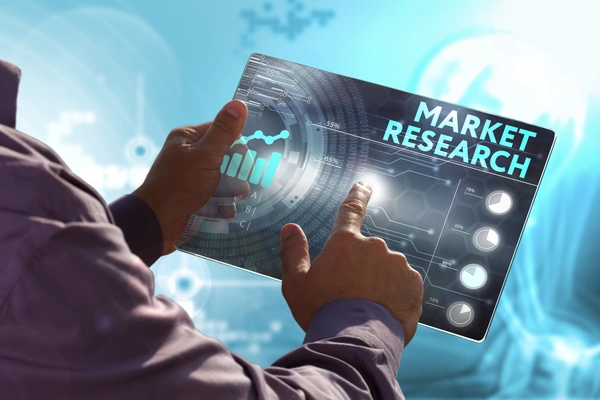 However, there are different types of tools for different needs. So we've rounded up the top 20 market research tools companies use to gather actionable insights and make better business decisions.
OvationMR's market research panel is the perfect tool to enlist when you need to discover specific information about your audience. Our panel consists of a group of vetted individuals who will go through pre-screening to see if they fit the criteria for your survey, helping you gather targeted quantitative or qualitative data.
For example, you can take advantage of our panel to discover information like:
General public opinions about a certain industry

What decision makers look for when working with businesses like yours

Purchasing patterns and behaviors
All of this can help you gather actionable insights that allow you to make informed decisions to grow your business. Get in touch with one of our expert sales reps to start the conversation about your next market research survey.
10. IBM SPSS Statistics
Best market research tool for analyzing data and statistics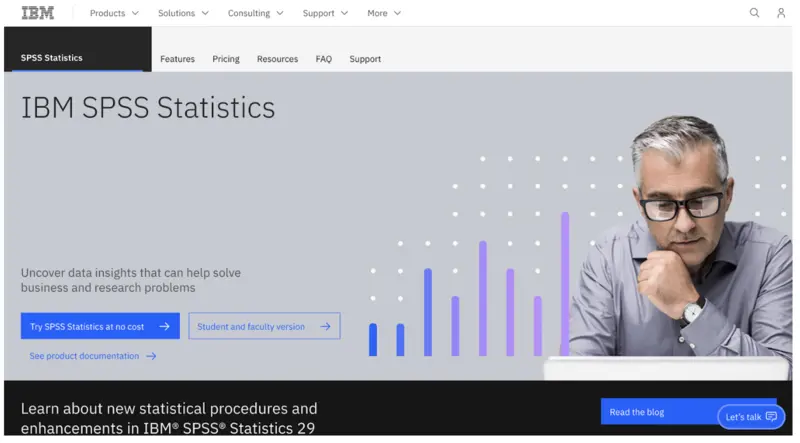 IBM SPSS Statistics is a statistical software that enables businesses to read and analyze data and statistics they've generated from their own surveys, that live in their databases, or that they've downloaded from an archive like Pew Research Center.
Users can import, paste, or type data into the SPSS Statistics reader, then take advantage of the available features to build charts and graphs, test hypotheses, creating reports, and sharing data with other teams and team members.
If you've done your own market research through a tool like Forsta, Qualtrics, or Alchemer, you might consider using IBM SPSS Statistics to help read and interpret your data and findings.
11. Displayr
Best market research tool for visualizing and analyzing your data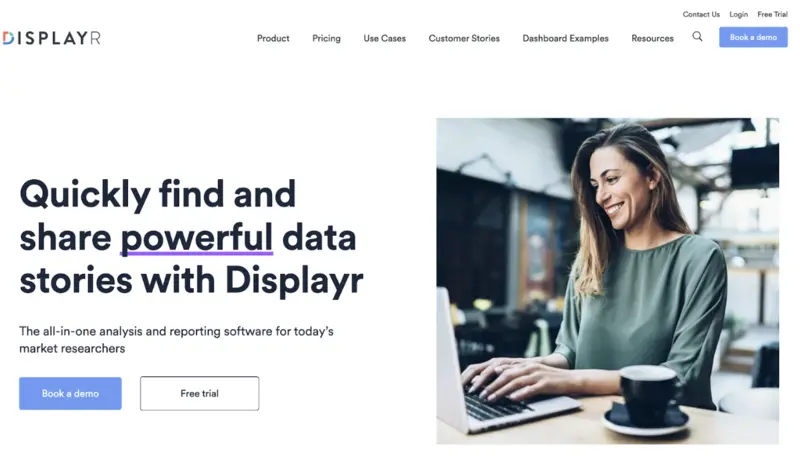 Displayr is another powerful tool for visualizing your market research results. Easily build out a dashboard with visuals showcasing your results and share it with your team, clients, executives, and more.
Working for businesses of all sizes, Displayr has an entirely free plan for those with smaller data sets to analyze as well as professional and enterprise plans depending on your usage. As their tagline states, Displayr helps businesses build stories out of their data, making sense of the numbers and turning it into something that can drive decision-making.
12. Google Trends
Best free market research tool for monitoring trends in your industry
Google Trends is a great market research tool for discovering trends and seeing what people are talking about online. Type in a query, like a product or feature you've been considering launching, to discover interest over time in that keyword as well as where's it's talked about most in the world.
This is basic market research, but it can be done quickly when you're starting to validate an idea to see if people are actually talking about it or not—and where that product might be most effective.
13. BrandMentions
Best free market research tool for finding mentions of your company online
BrandMentions is helpful with your market research for a few reasons. First, it can help you gather sentiment analysis—not only on your own brand, but also on your competitors'. Discover where people are mentioning you and your competitors online and in what tone. Are they happier with your brand or vice versa?
Keeping this information on hand can help inform your marketing and customer support strategies. It can also be useful for reputation management. Furthermore, BrandMentions can be used to track social mentions and hashtags, helping bulk up your overall business intelligence.
14. Think With Google
Best free market research tool for discovering digital  marketing trends and research
Think With Google is a similar archive to Pew Research Center, however their data and research focuses exclusively on the marketing and digital trends industry. Browse the homepage to find latest research articles and reports, or use the search bar to find specific results.
Use this tool to discover insights related to your marketing strategy so you can stay ahead of the curve when it comes to reaching your target audience. The reports and data Think With Google shares is also completely free, making this a great option for discovering digital trends on a budget.
15. Tableau
Best market research tool for business intelligence
Tableau is a business intelligence software that allows users to connect to various data sources and visualize their results. With a number of integrations, like Excel, Google Sheets, Salesforce, Google Analytics, and more, Tableau lets users build out comprehensive dashboards with any data they need to interpret.
Your Tableau dashboards are also easily shareable. Tableau provides its users with embed codes, but also has an API that many other companies have used to create integrations, making Tableau embeds part of their native tool.
16. NielsenIQ
Best market research tool for discovering consumer behavior
NielsenIQ is a market research tool that partners with businesses to create surveys related to customer buying behavior and insights. Not only do they publish a number of helpful reports, similar to that of Pew Research Center, they can also work alongside your business to launch your own queries into your specific customer behavior.
NielsenIQ also has its own collection of vetted market research partners that clients of Nielsen can use for various needs. These partners help with a variety of solutions, like customer insights, forecasting, product discovery, and more.
17. Qualaroo
Best market research tool for collecting user feedback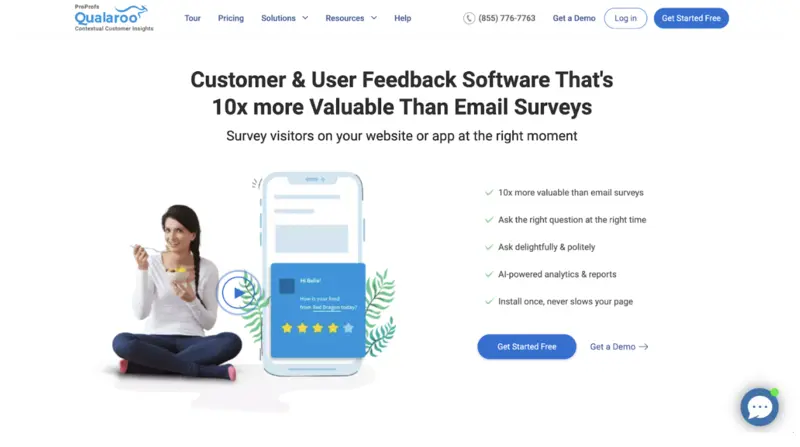 Qualaroo is a market research tool that surveys customers at a very specific point—while they're already using your website or app. Its ideal use is for gathering customer and user feedback so that you can get actionable insights on how people feel about accessing your site or app.
By seamlessly integrating with your website or app, Qualaroo can help you gauge customer sentiment and how they feel about shopping on your site or utilizing your app. From these results, you can easily pass on feedback to the development team to make immediate changes. Proving that you're actually listening to customer feedback is one of the most powerful things you can do.
18. Statista
Best market research tool for gathering data and statistics
Statista is a massive database filled with all sorts of data and statistics, most of which is tied up into easy-to-understand charts and graphs. While Statista does offer a large amount of its data for free, the tool also locks certain reports behind a premium paywall.
Start by searching the database for statistics relevant to your business, product/service, or industry to see how much data you can access before deciding whether or not it's worth it to subscribe to the premium plan.
19. Buzzsumo
Best market research tool for discovering content ideas
Buzzsumo is a market research tool specific to content and social media marketing teams. This tool analyzes top-performing content across the internet, helping users discover key terms and topics that are popular.
This tool is a great option for informing your content marketing strategy and ensuring you're covering topics that your target audience is actually going to have interest in and find useful. The tool allows users to access a free trial to test it out before diving into the paid subscription.
20. Loop11
Best market research tool for gathering user experience feedback.
 Loop11 is a usability testing market research tool, allowing companies to gather real-time feedback from actual people who are testing out their website or app to see how it works. This will help you discover how usable your website is to someone who has never accessed it before, as well as see how a typical person would navigate it so you can make it as easy as possible.
Gather insights on how you can improve the overall usability of your app or website, then ship them directly to development so they can get started implementing changes.
 Find the Right Market Research Tools for Your Needs
Our list of market research tools can help guide you through nearly every aspect of market research:
building out a customer persona,

creating surveys,

f

inding respondents,

analyzing data, and more.
For a done-for-you approach, rather than a do-it-yourself platform, contact us at OvationMR. Our seasoned experts can help you decide the best data for your needs, build out a comprehensive survey, put it in front of pre-qualified respondents, and work with you every step of the way.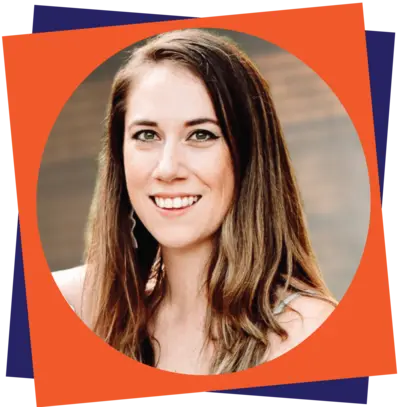 Chloe West
Author
Chloe West is a featured freelance staff writer for OvationMR, regularly contributing to various feature topics. She is a seasoned digital marketing and content marketing specialist who has led digital content for companies like Visme and whose posts are featured in some of the most respected publications around the globe.
OvationMR is a global provider of first-party data for those seeking solutions that require information for informed business decisions.
OvationMR is a leader in delivering insights and reliable results across a variety of industry sectors around the globe consistently for market research professionals and management consultants.

Need help with new insights?
We are ready to offer you:
A project estimate/proposal
39 Broadway, Suite 2010, New York, NY 10006 USA