B2B Market Research, 15 Companies for Your Next Project, OvationMR
Gather key insights for your business by working with one of the best B2B market research companies in the industry.
Ask an Expert | Get Quote
Learn why a foundational component of surveys is demographic questions, which enable you to understand the nature and characteristics of your respondents...
read more
Leveraging generative AI in qualitative research can have a number of benefits. Discover how artificial intelligence can help the world of market research....
read more
Market research is one of the best ways to gather key data and insights about your target audience, industry, and more. Through the use of surveys, panel research, focus groups, and more, businesses can access detailed information about the business professionals you work with.
To gather these insights, you'll want to work with the best B2B market research company you can find. There are a number of full-service firms available to find top-notch results to guide your business strategy.
We've compiled the top 15 B2B market research companies to help make your search easier. Learn more about their services, past clients, and more.
OvationMR
is a
B2B market research
firm offering qualitative, panel, and surveying services for B2B audiences across over 140 industry verticals. With a dedicated team of experts, OvationMR is able to oversee full-service B2B projects of all shapes and sizes with high feasibility.
"Ovation team are my go-to people for 100% of my panel projects. Their depth in market research and sampling design is unusually strong. They are creative problem-solvers and simply get the job done!"
OvationMR's B2B online sampling can be used for projects like:
Brand tracking
Concept tests
NPS (Net Promoter Score) surveys
Segmentation studies
Overall services include:
Surveys
Qualitative research
Panel
OvationMR can also program, design, and host your survey in a number of different languages. Full-service clients get access to a project manager who oversees the entire project from beginning to end.
Plus, OvationMR is one of the only market research firms who fully vet survey responses manually to ensure the data submitted to each client at the end of their project is as accurate and high-quality as possible.
"No project is too big or small for OvationMR, the intrepid mavens of online-sample who blend experience, technical expertise, and a can-do attitude in order to get the job done."
OvationMR has worked with clients across a number of industries, including USPS, McGraw-Hill, and Depop. Clients can also access a number of online tools on their website, like a custom dashboard, sample size calculator, and margin of error calculator.
It's a great day for discovering why with OvationMR. Contact one of our representatives today.
Amplitude Research
is a market research company that focuses on mail, phone, and online surveys for its clients. They provide comprehensive research and consulting services to businesses across various industries, including healthcare, technology, consumer goods, financial services, hospitality, and nonprofit organizations.
Their market research services include:
Survey design and hosting
Customer satisfaction surveys
Field research
Employee satisfaction surveys
Data analysis/report writing
Amplitude Research combines both digital and analog methodologies for surveying, including sending out surveys by mail. The team works with a select number of sample partners in order to ensure they can get the right people for your research needs.
InnovateMR
is a market research firm that offers two options to its clients: full-service research studies or a DIY approach for companies who want to create their own surveys. The DIYers still get access to InnovateMR's sample of respondents, but are able to access market research at a much more affordable price point—starting at just $149/month.
Companies who opt for the full-service approach get access to panels for business insights, consumer insights, healthcare insights, and their qualitative expert network.
InnovateMR's services include:
Survey programming and hosting
Audience sampling
B2B qualitative research
Consulting
The firm serves clients across various industries, including market research agencies, consulting firms, and corporations. Their goal is to provide clients with high-quality data and insights that support informed decision-making.
11. Geo Strategy Partners
Geo Strategy Partners
is a market research firm focusing in B2B and industrial verticals like IT, financial services, construction, aerospace, automotive, and more. They've worked with clients lik 3M, BP, AT&T, Rosetta Stone, and Kia.
Market research services offered include:
Market research and analysis
Strategic positioning and planning
Mergers and acquisitions
Geo Strategy Partners' goal is to mesh research and strategy together so that clients come away with the data and insights they need as well as a plan to move forward. They help with product development and branding to ensure their clients see success.
Sago
, formerly known as Schlesinger Group, is a research firm offering both qualitative and quantitative research options to its clients. They work with industries like healthcare, consumer goods, financial services, media technology, and more.
Sago's service offerings include:
Global quantitative solutions
Brand trackers
Online surveys
Digital qualitative research
In-person focus groups
Ethnographies
Telephone interviews
Some of Sago's past clients include TD Bank, Candela Insights, and RBC. Sago also offers a self-serve option called Methodify, which is an automated quantitative research engine. This enables clients to gather insights on their own terms, rather than working with a full-service option.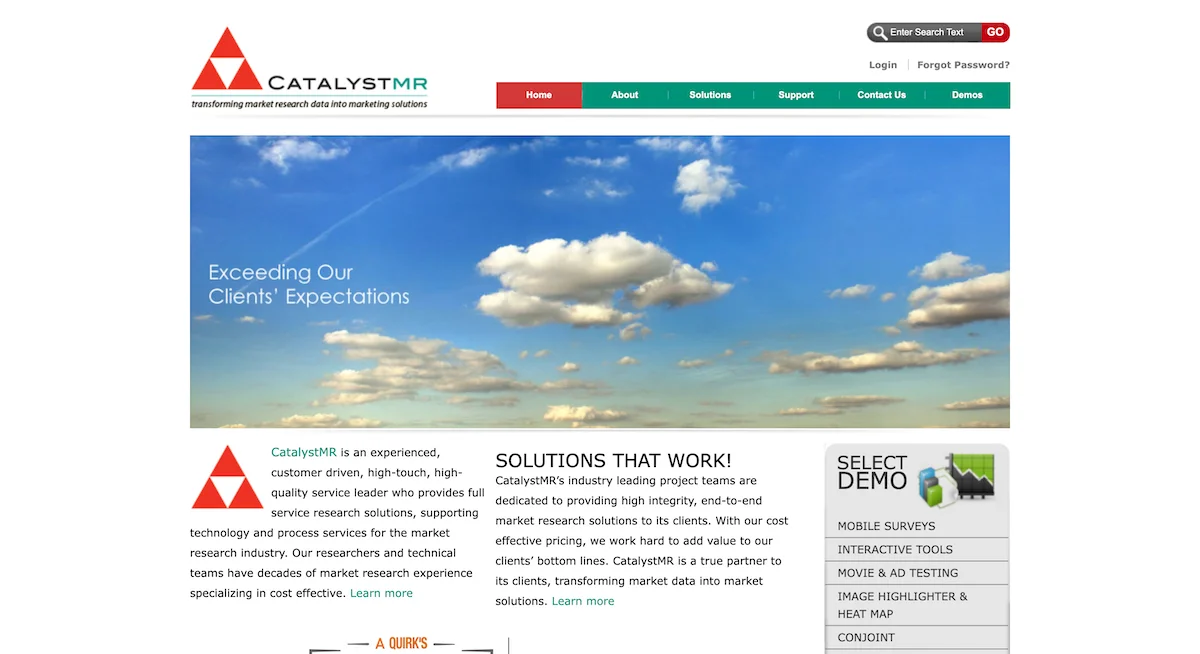 CatalystMR
is a market research firm that focuses on consumer, healthcare, and B2B market research. Named a Quirk's Top Company in 2023, CatalystMR works as a partner to its clients, ensuring they're able to help provide actionable insights for every project.
Services offered include:
Survey programming
Web, mobile, and telephone surveys
Panel sampling
Real-time data and reporting
Multiple language surveys
PowerPoint development
CatalystMR is most known for its panel community, with a sample made up of consumers, B2B, IT decision makers, teens, physicians, and patients across 53 different countries. While the firm is able to create B2B-focused surveys, it can help in other industries as well.
Hall & Partners
is a market research firm focused more on branding and helping to create brand strategies and improve brand performance based on research findings. They work with four main sectors, including B2B, consumer goods, healthcare, and the public sector.
Services offered include:
Brand positioning
Product and service innovation
Pricing research
Brand tracking
Creative message testing
Marketing campaign development
Hall & Partners sets themselves apart by focusing exclusively on brand and campaign building, helping their clients to ensure they'll be well-received by their target audience. The firm also offers its own interactive data visualization platform called The Hub, where clients can easily access their data and results.
Quest Mindshare
is a market research company working with B2B, consumer, and healthcare audiences—though the majority of their business is in the B2B sector. Quest has access to a global panel of over 20 industries and over 35 countries for their research studies.
Available services include:
Survey programming and hosting
Project management
Market research panel
They also have two technology tools, Titan™ and Detect™, to help automate some of their market research processes. These help with the overall quality control of survey results, ensuring their clients are satisfied with the data discovered.
Get Started With Your Next B2B Market Research Project
While there are a number of B2B market research companies to choose from, we'd love to chat about how OvationMR can help with your next project. Get in touch with one of our representatives today to learn more.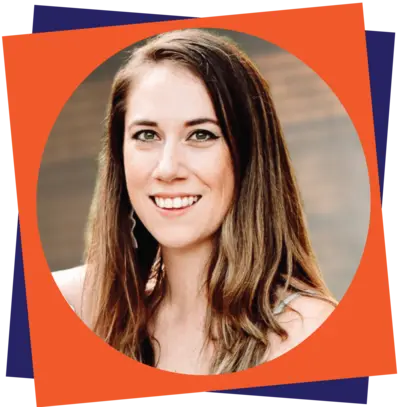 Chloe West
Author
Chloe West is a featured freelance staff writer for OvationMR, regularly contributing to various feature topics. She is a seasoned digital marketing and content marketing specialist who has led digital content for companies like Visme and whose posts are featured in some of the most respected publications around the globe.
OvationMR is a global provider of first-party data for those seeking solutions that require information for informed business decisions.
OvationMR is a leader in delivering insights and reliable results across a variety of industry sectors around the globe consistently for market research professionals and management consultants.

Need help with new insights?
We are ready to offer you:
A project estimate/proposal
39 Broadway, Suite 2010, New York, NY 10006 USA