What Do Engaged Linkedin Users Really Want?
An In-Depth look and Engage LinkedIn User Survey Feedback on Content Preferences
Ask an Expert | Get Quote
Why most active LinkedIn users tolerate off-topics while moderate users demand work-related content
The most active LinkedIn users tend to be more tolerant of non-workplace topics. In contrast, moderate users demand more content about the workplace and related news stories, according to a recent online survey conducted by OvationMR.
Founded in 2002, LinkedIn operates the largest online professional network, boasting more than 630 million members in more than 200 territories and countries worldwide. This platform is the social media hub for the world's top executives and professionals in every industry and market imaginable.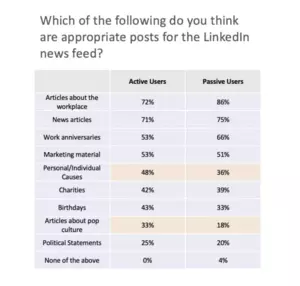 It's an attentive audience logging in regularly searching for information, data, and tips to help make companies more profitable and individuals more successful. It's an audience worth knowing. It's an audience worth listening to.
What kind of content are LinkedIn users looking for? More business stories and fewer politics
According to most LinkedIn users who participated in this June 2019 survey, they want more articles about the work. Roughly 58 percent of respondents would like to see more articles about the workplace, while 42 percent demanded additional news stories. Given that the majority of LinkedIn users are job seekers, recruiters, business professionals, and marketing folks, that makes a great deal of sense.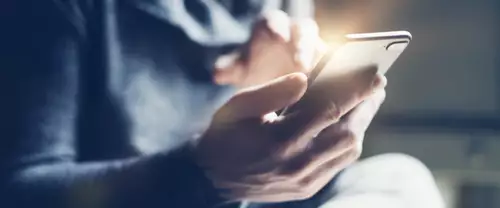 Interestingly enough, those who were most active on LinkedIn tended to post, comment, or participate on other social media platforms daily and were more tolerant of non-workplace content such as personal, political, and pop-culture posts.
Most moderate users rely on LinkedIn for work-related information. Nearly half of all respondents would like fewer political statements, and more than one-third would like to hear less about pop culture on this platform.
How active are engaged Linkedin users?
The top activity that regular LinkedIn users engage in, according to the survey, is reading a posted article. Roughly two-thirds of all respondents do so every week, and about the same number of users "like" a post. More than half of respondents participate in the LinkedIn community by posting a comment.
For those companies looking to LinkedIn users for potential business opportunities, that's an important research finding.
Melonie Dodaro, a blogger for LinkedIn Marketing Solutions, explained in her article 5 Compelling Reasons to Publish on Linkedin that "publishing on LinkedIn provides more value to connections who view your profile. LinkedIn is about relationship building, and one of the best ways to build a relationship with your connections is by providing value first – which you can do with your content."
Why do people find Linkedin the most useful social media platform?
More than one-third of those surveyed reported that LinkedIn feeds were the most useful of all social media platforms, with an additional 46 percent saying that it was a handy platform. Facebook came in at a close second place in terms of usefulness.
Although many people rely on LinkedIn to find new or better job opportunities, the platform offers a way to stay connected to the greater business world. It provides a place to start conversations about problems, issues, challenges, and successes. It helps people and companies stay abreast of news and opportunities. While other social media platforms may be places to share hobbies, personal lives, and gossip, LinkedIn is the place to go for business, professional development, and connections, making it more useful than simply interesting.
Research Details
Three hundred online interviews with regular LinkedIn users were conducted in June 2019.  This survey was conducted using an OvationMR market research panel, curated from a diverse, invitation-based recruitment method. All respondents are pre-qualified based on known criteria for this particular survey.