Accelerate Speed to Insight
How do you save money with DIY research tools when you're still being charged retail pricing?
What is most important when buying market research panel services?
You want more actionable data and insights – you want it right now, and you're not willing to spend the entire bank for quality results. Not only do we want this for our own business, but the market research industry has always been value-driven, particularly in the area of embracing new technology trends. Whether it's the internet, smartphone apps, AI, or augmented reality, the demand for more high-quality data across companies is growing, especially as we understand and begin to value how customers interact and engage with us and then provide feedback.
With a growing appetite for customer insight everywhere you turn today, we can be optimistic indeed. However, practitioners still have a great responsibility to deliver reliable and meaningful insights, albeit for a good value and in a timely manner—a tall order, needless to say.
Pie in the Sky – DIY Lie…  Why do panel companies continue to promote their sample DIY tools save time and money to the research community while still charging them retail pricing and leaving the client with all the work?   The promise is faster turnaround time – but the reality is lower client service cost for the panel provider.   When more mistakes happen the panel providers can resolve the problems at a much higher cost to client.   You ask yourself, what you are really saving?    Jim Whaley | OvationMR
We all understand that time is the one thing that we can never get back. Most research practitioners agree they would rather spend their time on high-value tasks rather than playing the role of sample manager for panel companies while still paying retail prices for sample.
At OvationMR, we are perpetually investing in optimizing our platforms to address the challenges of today's insights practitioners, who quite frankly are being let down by the high expectations set by DIY Sample Tool providers.
At OvationMR, we believe you should get what you pay for… and what you are paying for is an expert who will be on your team to share the load and at a better value than Sample DIY (which is basically you: plate spinning sample around the clock).
With OvationMR, you will have your sample done correctly and flowing faster than any Sample DIY tool, especially when dealing with complex audience targeting and multiple markets or when doing political polling.
Our mission is to expand opportunities for researchers to do the work they believe in and can stand behind, for their company, their community, and their cause.
Our mission statement drives every action and intention at OvationMR, as in the case of supporting the research community, which is why we offer the most reliable, high-quality data Consumer and B2B Research panels you will find in the world and at the best value. We provide quality data to fine organizations of all types: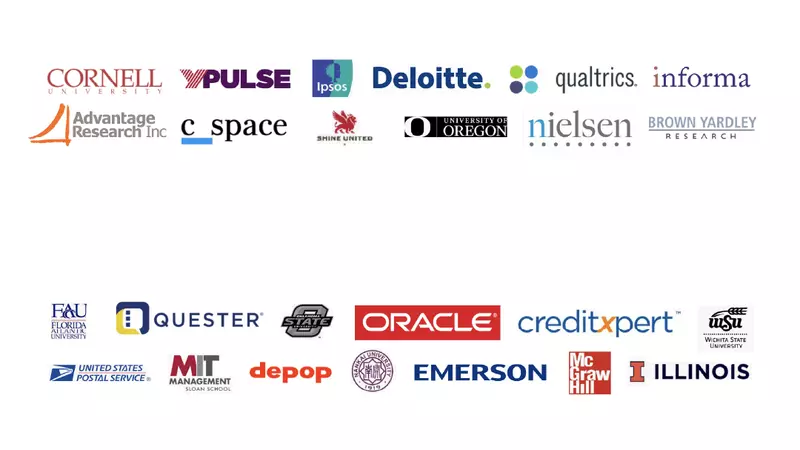 You understand sampling…
You want competitive pricing and you also know your sample plan is managed properly.
You want to dial in precise targeting and be certain you fill quotas in correct sequence.
You know it takes time and experience when managing every survey means understanding and adapting to different requirements.
Our clients understand sampling – and trust the sampling execution to OvationMR – so they may continue building their insights practices and authority.
jenn.whaley@ovationmr.com
Fast, Reliable Answers for Insightful Research

Need help with your project?
We are ready to offer you:
A project estimate/proposal
39 Broadway, Suite 2010, New York, NY 10006 USA